Nationwide Car Shipping Service
5-STAR RATED CUSTOMER SERVICE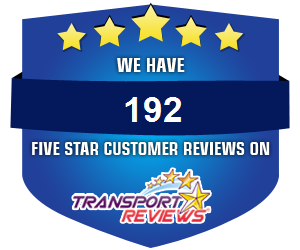 Nations Auto Transport proudly maintains a 5-Star customer satisfaction rating on TransportReviews.com. Our satisfied customers are quick to provide us with their personal experience testaments, regarding our agent services, great prices, and the upfront and follow up services that we provide throughout the entire transport process. Additionally, we have a 100% rating on CentralDispatch.com. This rating reflects our reputation among an equally important group, our car shipping carriers. Our industry ratings along with our commitment to both you and our carriers affords us with the opportunity to demonstrate our ability to deliver on our industry services. We encourage all of our clients to submit reviews after every transportation job. As you'll see, our vast customer base includes virtually every type of customer, including new and used car dealers, eBay buyers, classic car enthusiasts, military personnel, snowbirds and college students. Click here to get your completely free car shipping quote today.
Nations Auto Transport, LLC specializes in both open and enclosed car shipping services. Our commitment to a five-star car shipping experience is reflected in the great reviews left by satisfied customers. We are happy to answer all your questions about how to ship a car. With our free car shipping quote and 5 star service, we're the preferred choice for domestic auto transportation. We recognize that trusting others with a new vehicle or valuable classic car isn't easy. It's why we go the extra mile to ensure all of our car shipping carriers are fully licensed and insured, and that they meet our five-star rating criteria. Your vehicle will always be treated with the care you'd give it yourself.
Why use a car shipping broker?
Why not just call the carriers direct?
Using a broker will eliminate the frustration of trying to locate a car hauler on your own. Although a car hauler may be able to give you a free car shipping quote, it is unlikely that they will have the resources to get your vehicle picked up and the time and location that meets your needs. The responsibility of the broker is to make the information available to our network of carriers as quickly as possible, respond to their calls, verify all the information needed to pick up the vehicle and make arrangements so that they simply need to concentrate on what they do best. All brokers charge a broker fee and the rates vary depending on the complexity of the move, the type of vehicle(s), the type of auto transport (open/enclosed), the value of the vehicle, the time of year, the weather conditions and other factors. We work hard to make this process as simple as possible. There is no obligation to book with us. We just ask that you not contract with multiple brokers. Choose one and read their reviews and responses.
LICENSED – BONDED – INSURED
When you accept a rate quote from Nations Auto Transport, you will have the peace of mind of knowing that our carriers are fully licensed, bonded and insured. Additionally, we only work with dependable, professional and tenured car shipping carriers who have proven industry experience. We also carry our own contingent liability insurance opens PDF file to ensure that you're fully covered throughout the delivery process.
Our Contingent Liability Policy, underwritten by Evanston Insurance and Lloyds of London, is the gold standard in the car transport industry. Please take this into consideration when you're looking for a auto transport service provider. While it is acceptable for a broker not to have any form of contingency insurance, we feel it is a service to not only our clients, but for our risks as well. Beware of unrealistic estimates. Get several and compare not only the price, but how quickly they respond during business hours and how knowledgeable they are about the service you are asking them to arrange. Many auto transport companies will produce unrealistically low cost estimates. This is often a red flag. "Too-good-to-be-true" offers usually include very little insurance, if any at all, and the carriers may not be properly vetted to insure license and insurance is current. Nations Auto Transport contacts the insurance agent for every carrier we contract with verify insurance coverage. If we are unable to obtain one before a transport is completed, we will no longer work with that carrier until they have provided documents that meet our compliance expectations.