About Nations Auto Transport
Nations Auto Transport, LLC specializes in both open and enclosed car transport services. Our commitment to a five-star car shipping experience is reflected in the great reviews left by satisfied customers. With 24 hour service and the ease of free car shipping estimates, we're the preferred choice for domestic auto transportation. We recognize that trusting others with a new vehicle or valuable classic car isn't easy. It's why we go the extra mile to ensure all of our vehicle transport carriers are fully licensed and insured, and that they meet our five-star rating criteria. Your vehicle will always be treated with the care you'd give it yourself.
Using a broker will eliminate the frustration of trying to locate a car hauler on your own.  Car haulers do not typically advertise, so it's difficult to locate a phone number or website for them and once you do, you have no idea if that particular carrier travels to the region of the country where you are needing your vehicle transported.  Likewise, their profession is the safe transport of vehicles across the country.  They don't have the resources or the time to answer online queries or telephone calls with quote request.    This is why auto transport car carriers will join networks such as ours where they can get online and quickly view available vehicles along their route and quickly contact the broker for further information.  The responsibility of the broker is to make the information available to the carriers as quickly as possible, respond to their calls, verify all the information needed to pick up the vehicle and make arrangements so that they simply need to concentrate on what they do best.  All brokers charge a broker fee and the rates vary depending on the complexity of the move, the type of vehicle(s), the type of auto transport (open/enclosed), the value of the vehicle, the time of year, the weather conditions and many other factors.  We work hard to make this processes as simple and seamless for the consumer.
5-STAR RATED CUSTOMER SERVICE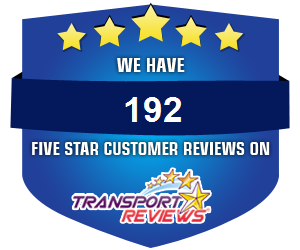 Nations Auto Transport proudly maintains a 5-Star customer satisfaction rating on TransportReviews.com. Our satisfied customers are quick to provide us with their personal experience testaments, regarding our agent services, great prices, and the upfront and follow up services that we provide throughout the entire transport process. Additionally, we have a 100% rating on CentralDispatch.com. This rating reflects our reputation among an equally important group, our car shipping carriers. Our industry ratings along with our commitment to both you and our carriers affords us with the opportunity to demonstrate our ability to deliver on our industry services. We encourage all of our clients to submit reviews after every transportation job. As you'll see, our vast customer base includes virtually every type of customer, including new and used car dealers, eBay buyers, classic car enthusiasts, military personnel, snowbirds and college students. Click here to get your completely free car shipping quotes today.
I lost hope trying to get a car shipped by some other bogus company called Enterprise auto transport under the umbrella of uShip. In a last ditched found effort on Google, I found Nations Auto Transport, LLC and reluctantly sent a request. Within a Minute, Mrs Hope contacted me and was ready to have the car picked up. But the uShip gal blocked the shipment and responded with this " I am a broker and I have to broker this deal out. This can take anywhere from 3-7 days. I will call the both the both of you as soon as I have a driver. Cancellation denied" I ran for my medication. After 6 days, I started sending mail and finally got a " Today is my day off. I have been working 60 days non-stop" She eventually release the order. Ms. Sharpe had a driver ready withing minutes. The car was picked up and delivered right away. These folks answer their phones and every mail you send.

Price was very fair. The car was picked up asap! I have used other carriers and had to wait 2 weeks before they picked up the car. Mark also had very good communication. Very pleased!

Great experience, Sue Wright our contact received a pickup within minutes of posting our transport job. Sue was very informative and understanding of all of our questions and handled everything with professionalism and courtesy. Sharon and Paul Erickson of Erickson Trucking were very helpful and took great care of transporting our vehicle to us in Colorado. The entire experience was stress free. Thank you Sue, Sharon and Paul. Great Job. Would not hesitate in using you again for any transporting needs.

After having some trouble getting my '66 Mustang convertible delivered to Key West, I called Sam. He picked up his phone immediately, which is a lot more than I can say for many I've dealt with in the industry. He gave me a fair price and MORE IMPORTANTLY he EXPLAINED the situation so I could better understand why I had been having all the problems with other companies. Many of the people I worked with before Sam were nice enough, but they really had NO CLUE how things really work, so they couldn't have explained things even if they wanted to I will use Sam whenever I need to move a car that I'm not driving myself. Thank you Sam...

I am truly amazed at how simple and smooth Julie made this shipment happen. The price was right, the level of communication was perfect and the vehicle was picked up and delivered exactly on time as communicated with zero problems or issues. This whole process just couldn't have been any better.

I had never shipped a car before and was very worried about "my vette". It arrived safe,sound and without a scratch.my contact person answered my calls and questions quickly. I would definitely use this company again if I needed to ship a vehicle.

I had a fantastic experience shipping my Honda from Los Angeles to NJ. Chris is incredibly responsive to questions and great at keeping you in the loop. Everything he promised was delivered. Steve, the driver, sent me a picture of my car on the carrier and dropped it off when he said he would. Very easy to communicate with. And last but not least, I overpaid my bill by mistake, called the office, and Julie reimbursed me right then and there by cutting a check. Friendly and understanding... and the check came within 3 days. My car arrived in NJ exactly as it left CA. Excellent customer service from beginning to end. I plan on using this exact team again when I (hopefully) move back out to LA! Call them and ask to work with Chris, Steve and Julie!

Joe was great to work with. Driver was also great, cars came in good condition and on time. Great experience overall.

The truck was delivered on time and appeared to be in the same condition as when picked up. The driver was courteous and seemed professional.

I won a vehicle on Ebay from a car dealer in Pennsylvania. I needed to ship it to Oregon. I used the car transport service the seller suggested: Nations. Mike was really friendly and helpful. I would recommend this company to anyone!

I don't do yelp, Facebook or any other of those things. But I will tell you it arrived on time. You were the only company that would ship it with stuff in the back

They were on time picking up my vehicle and delivered it on time safely. The driver called me when he picked it up and called when he got close to my house. I liked all the effort put into my delivery

Julie was great to deal with, very responsive and had my transport scheduled and picked up the same day it was available. Definitely would use again for all my vehicle transport needs. Thank you for everything.

"Julie is the most responsive,efficient, and experienced person in auto transport. We recently needed a vehicle shipped to two different locations by two different carriers on a very time-constrained schedule and she was able to pull together not only the drivers and the transports, but help work creatively on the logistics side. She really gives 110% effort and goes above and beyond to help bring great results. We are pleased to have been introduced to her and look forward to working with her at Nations Auto Transport more in the future!"
LICENSED – BONDED – INSURED
When you accept a car shipping quote from Nations Auto Transport, you will have the peace of mind of knowing that our carriers are fully licensed, bonded and insured. Additionally, we only work with dependable, professional and tenured carriers who have proven industry experience. We also carry our own contingent liability insurance to ensure that you're fully covered throughout the delivery process. Our Contingent Liability Policy,  underwritten by Evanston Insurance and Lloyds of London, is the gold standard in the car transport industry.  Please take this into consideration when you're looking for a car transport service provider. We also carry excess coverage when necessary, while most companies will operate with only the absolute bare minimums. Many transport companies will produce unrealistically low cost estimates. This is often a red flag. "Too-good-to-be-true" offers usually include very little insurance, if any at all, and the carriers may not be properly bonded or licensed.